The history of Nirvana can be described in four stages, namely the beginning of Nirvana, the road to fame, the sudden end, and the aftermath.
With striking lyrics and great music, Nirvana gained popularity during their time, bringing grunge into the spotlight. Making a great wave of change in the music industry, Nirvana had taken its own unique journey that shocked the world. Here's brief history of Nirvana, from their humble beginning to their sudden fall.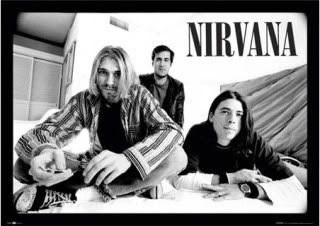 ♥
The beginning of Nirvana
Nirvana was formed by its remarkable vocalist and guitarist Kurt Cobain and bassist Krist Novoselic at 1987 in Aberdeen, Washington. Cobain and Novoselic first met in 1982 through a common friend, Buzz Ozbourne of the band "the Melvins". They watched The Melvins practice and play gigs, which inspired them to form their own band. They started playing together in 1986 without a formal band name. Later on, they named their band
"The Stiff Woodies". They also had different names for their band, including Bliss, Ted Ed Fred, Pen Cap Chew and Throat Oyster, before they finally settled for the name Nirvana in February 1988. They also had different drummers during its early years, including Chad Channing who was with them from 1988 to 1990. Dave Grohl then joined as the band's drummer after Channing. The band's first release included "Love Buzz" and "Big Cheese" in 1988, followed by other singles and an album named "Bleach" released on June 1989. It was successful and gained popularity among college students.
The road to fame
Nirvana did interviews and made tours for their album "Bleach" in the US and in European countries like UK, Netherlands, and Germany. In 1991, their second album "Nevermind" was released under DGC Records, with the lead single "Smells Like Teen Spirit". Nirvana made their way to the top, which went triple platinum, with their lead single's video played constantly on MTV. It was during these days that Nirvana made a great change in the music trend with its grunge anthem. A third album was due for recording in 1992, but was delayed due to Cobain's health problems. Instead, the album "Incesticide" was released, which composed of rare recordings and b-sides to their past recordings. In 1993, the third Album "In Utero" was finally recorded and released on December, making its way to the top of the Billboard charts.
♥
The sudden end
In the middle of Nirvana's great success, Cobain's use of drugs became uncontrollable. Their European tour in early 1994 was cut short since Cobain was rehabilitated. He escaped the rehabilitation center and went home to Seattle on April 1, 1994. It was on the 8th of April of the same year that his body was found dead in his home at Lake Washington with a gun shot wound in his head. Speculations were made, but no evidence was found linking his wife, Courtney Love, whom he married in 1992, to his death.
♥
The aftermath
Cobain's death shook the world. At the peak of their career, Nirvana had to split up, thinking that Nirvana would not be the same without Cobain. They decided to take separate roads, with Grohl starting his own band "the Foo fighters " with Pat Smear, who was also Nirvana's guitarist during their later tours. Novoselic joined other bands and eventually entered politics.
Even after Cobain's death and the band split up, albums were released even until 2002. Albums included Nirvana's unreleased recordings, live performances and tours, as well as their remarkable unplugged show in MTV. Nirvana even became more popular, with merchandise spreading like wildfire, including Nirvana T-shirts.
By popularizing grunge, by influencing many alternative bands, and by making a great impact with its bold, striking lyrics, Nirvana will always remain one of the greatest bands of all time.